Omah Lay Got Robbed At The Airport
Omah Lay Got Robbed At The Airport
Nigerian fast rising singer-producer, Omah Lay, has revealed that he was robbed of his personal belongings at the airport.
The 23 year old singer made this known via twitter that his laptop,microphone and audio interface were stolen from his box. He tweeted: "So they stole my laptop, microphone & audio interface from my box at the airport LMAO, y'all looking for a hit record or what?"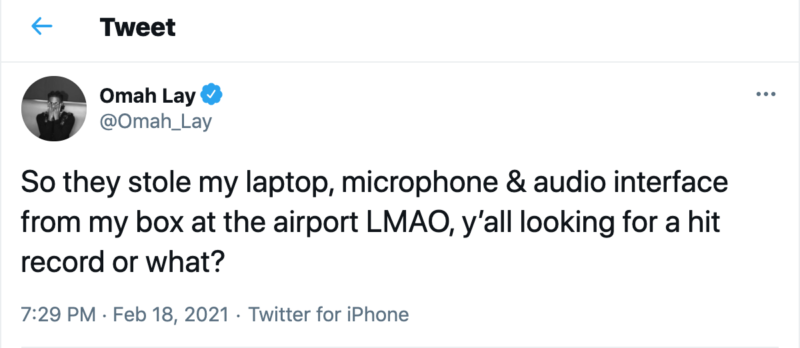 The singer didn't disclose the name of the airport where this incident occurred or if he is planning to take legal actions against them. He also didn't share his concerns about the culprits leaking some of his unreleased songs.
Surprisingly, Omah Lay isn't the first artist to be robbed of his belongings at the airport. In 2020, Mr Eazi was robbed of his phones and laptops in Ghana. The singer also tweeted begging the people responsible to return his gadgets.
However, this isn't Omah Lay's first appearance on the news in regards to security. In 2020, Omah lay and Tems were arrested for breaking the COVID-19 guidelines after their performance at The Big Brunch in Uganda.
See His Tweet below